You may all recall that i posted about Jeffrey Strain and his wonderful penny experiment HERE. Well guess what!!?? I am going for it!! I am so proud and happy to say that i will be taking part in this wonderful act of kindness!!
I plan on purchasing items for this experiment in seperate transactions as i do my usual shopping for the month of January. I will keep you all updated with separate posts, images, and video's (yes shy ole' me posting up video's imagine that! Hey it's for a good cause!!) documenting my purchases for the Penny Experiment. If i find that it is something i can keep up with along w/my fitness goals and this blog i will most likely continue on past the month of January.
I just wanted to let all you Coo Coo's out there know that we are taking part in a great cause. If you find any wonderful deals that i may not have posted please let me know so that i can stock up on these items to donate to this project!!!
Below is one of the wonderful peices of art that can be purchased to help fund the Penny Project.
View more HERE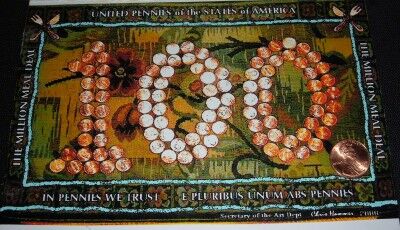 Wish me luck!!!