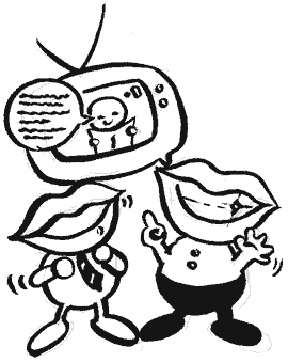 So i have heard time and time again from family and friends just how lucky I am to get so many free products and great coupons sent to my home mailbox. I am going to share with you how i do this. I will post here my referral links for some of the companies that i product test or spread word of mouth for. I will also share direct links for the site itself. The reason being is even though i would greatly appreciate the referral credit for you joining up to get the greatest new products to try for free I also do not expect it. I want to help you save and help you to be just as lucky as I am since these opportunities are out there for all. You just have to know where to look! So this is by no means a suggestive post for personal gain. If you choose to click on the referral links THANK YOU!
I hope you find the information and websites helpful. If you sign up PLEASE let me know i would love to hear about your experiences!!
BzzAgent is by far my absolute favorite site for product testing. I have been a member of this site since 2004!! Here are some of the BzzCampaigns i have joined in on. (When you sign up for a BzzCampaign you are agreeing to receive a free bzzkit usually filled with a full size product and coupons to pass out to friends and information to bzz about after you spread bzz you go back to BzzAgent and report your bzz you will then earn points through mypoints (which i will also tell you about later on) and get free gift cards or rewards of your choice!)
AVEENO(R) NOURISH+ Hair Care (haven't yet gotten this one but patiently awaiting!!)
Diet Mountain Dew(R) (i received 2 free can's of Diet Mountain Dew in the mail with coupons for 1 free case (for myself) and a coupon for $1.00/1 (to pass out to friends about ten of them)
Glade(R) Sense & Spray(TM) (received a full size product and coupons for $4.00/1 to pass out to friends)
The Fragrance Collection by Glade® (full size product and coupons)
Pledge(tm) Fabric Sweeper (full size product and coupons)
Cover Girl Outlast Lip stain (full size product and coupons)
Smucker's Uncrustables (coupon for FREE box of this product as well as coupons to pass out to friends for a $ amount off)
Sonicare (One of my absolute fav bzzcampaigns i received a powered toothbrush!!! absolutely free and another campaign i received a toothbrush head sanitizer)
Ralph Cool (this was one of my very first campaigns and by far my FAVORITE i received a full size bottle of perfume!!)
and many MANY more campaigns TOO many to name here!!
There is no referral link for this site although you can be referred via email below is what the email will read (also explain in a little more detail what this site is all about) if you would like a referral (i would appreciate it) then post your email address here in a reply or email me.
Hello. Have I told you about BzzAgent yet? I'm a member, and I thought you might like to be one too (joining is free). I get to try products and services at no cost with samples, coupons and stuff like that. Then I make my voice heard by sharing my honest opinions with others, including some of the largest companies in the world. Want to learn more and sign up to join in the fun?
As a BzzAgent, you'll get to:
Discover and try new products and services (often for free)
Spread sincere word of mouth about them
Have your opinions influence some of the biggest companies and brands around
If you'd like to receive those benefits, become an Agent today. Don't worry, BzzAgent respects its members' privacy and won't share your personal information or spam you. We're a community focused on word of mouth, so what better way to recruit new members than referrals and recommendations from friends? We hope to see you soon! BzzAgent
Another one of my absolute favorite sites is Mypoints! I have been a member of this site for YEARS!! At first i did not take advantage of the site i merely had an account (wish i would have taken full advantage since day 1!!) There are many points earning methods on this site. One of the main ways to earn points is to read emails from Mypoints. This is how i rack up most of my points (on which i will share proof of with you later on in this post) You simply click on emails sent to you by Mypoints. It will be from BonusMailReply ( i know NEVER to erase these emails but ALWAYS click on them!) Here is what one looks like:
You can either choose to sign up for the featured offer and receive more points or simply click on the button let the page load and close it down to earn the 5 points. Most times all i do is click on the link. Every once in a while i will get an email to sign up for a newsletter or such and i will take advantage for the extra points.
Other way's to earn points are:
Submit Bzz @ Bzzagent.com (usually 30-50 mypoints for each approved bzzreport)
Print and use COUPONS!! from their site (another one of my fav methods)
Play Games
SHOP!
HERE is proof of my points i have been building up *note this is not the points i have over the 5 year period. This is the points i have available right now!! If you look below you can view my lifetime points! And what i have cashed out! I have received many GC's!!
Also my lifetime points and balance:
I am only able to refer 5 people a month! If you would like to be one of my referrals please post your email here or email me with your email address and i will send you an invite!!
or go to www.mypoints.com
Be on the look out for more posts like this one with other ways that i earn and enjoy free products!!